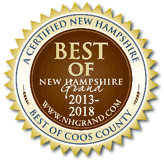 The William Rugh Gallery represents artist/painter Ed Widmayer and photographer, Fletcher Manley.
10 Evergreen Drive, Lancaster NH
Open Saturday and Sunday 10AM - 4PM and by appointment: Please call 603-788-5531
Event Info
Landscape Photography of Andrew St. Cyr
The William Rugh Gallery is privileged to present the fine art landscape photography of Andrew St. Cyr. Andrew a Lancaster native and second year student in the Adventure Education program at Plymouth State University has taken hundreds of photographs of the White Mountains and surrounding areas, capturing scenes at their most mesmerizing moments!
The images reproduced for this show and sale are printed on quality archival art paper by well known printer and photographer, Fletcher Manley.
Date: Saturday, May 2, 2015
Time: 11:00 a.m. to 3:00 p.m.
Edward Widmayer Oil Paintings and Fletcher Manley Photographs available to view and purchase also.