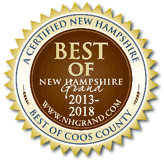 The William Rugh Gallery represents artist/painter Ed Widmayer and photographer, Fletcher Manley.
10 Evergreen Drive, Lancaster NH
Open Saturday and Sunday 10AM - 4PM and by appointment: Please call 603-788-5531
Event Info
HOLIDAY SHOW & SALE
Saturday, November 16, 2013
12:00 p.m. to 4:00 p.m.
Pulled from the archives....
more than a dozen oil paintings by Edward Widmayer (1923-2010) not previously shown in the gallery!
Featuring a 50% discount!
ALL Widmayer Original Art
ALL Manley Panoramic Photography
ALL Jacob Glass Vases
ALL Estate Jewelry
ALL Widmayer & Manley Unframed Prints
Enjoy a 55% disount!
When you bring a new, unwrapped toy that will be given to families in our community.
Christmas shopping at its best for everyone on your list!
Please come and enjoy some beautiful art, conversation and holiday refreshments.